People magazine broke the exciting news of Sharelle and Chad's engagement. Continue reading to hear more about Sharelle Rosado and Chad 'Ochocinco' Johnson's whirlwind romance.
Congratulations to Sharelle Rosado, reality TV star, and football wide receiver Chad 'Ochocinco' Johnson. According to People magazine, the former NFL player proposed to the Selling Tampa star with a massive 7.5-carat sparkler.
On Saturday, January 7, 2023, Chad proposed to Sharelle Rosado in front of about 20 guests at Bar One in Miami. We are overjoyed for Sharelle and her new fiancé, Chad.
What did Sharelle Rosado have to say about getting engaged?
In her latest interview with People magazine, Sharelle said, "I'm honestly shocked! I'm at a loss for words. This was absolutely beautiful and to see my family and friends here to celebrate our love, that really did it for me."
Rosado described her engagement as "more special" than she "ever dreamed." She also stated that she "had no idea" Johnson's proposal was on the way.
The reality TV star further added, "He is definitely not a planner, so for him to pull this off for me is so amazing. Just the thought he put into this and having our family and friends here to witness says a lot."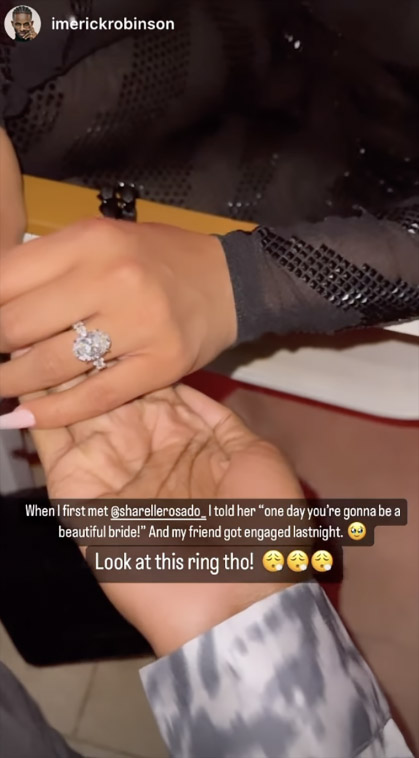 On the other hand, Rosado's close pal Erick Robinson posted a picture from the pair's engagement day on his Instagram Story in which Sharelle can be seen flaunting her stunning engagement ring. "When I first met @sharellerosado I told her "one day you're gonna be a beautiful bride!" And my friend got engaged last night. Look at this ring tho!"
In January 2021, Sharelle Rosado told her fans she said 'yes' to Johnson
Sharelle informed her fans on Instagram Story in January 2021 that she "said YESSSS" to Johnson, while the engagement was allegedly not official.
Not long ago, Rosado's rep told Page Six, "Chad never officially gave her an engagement ring until last night." The rep further added she believes her client was "just kidding around" with the initial "engagement" post.
She went on to say, "From the moment they started dating, [Chad] told her that 'I'm going to make you my wife' and that is why they used the affectionate term fiancé for each other. They always had such a deep connection. Chad was her celebrity crush for many years before they ever met."